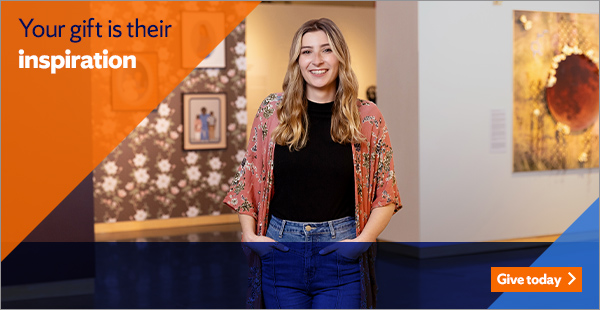 When you support the Syracuse University Art Museum, you promote the arts on campus and help strengthen interdisciplinary research, creative thinking, and increased mindfulness at the university.
As a teaching museum on campus, the Museum serves as a forum for a broad range of discussions that bring students across campus together with faculty and the wider community. The Museum presents up to 20 exhibitions annually, scores of public programs, and has an active schedule of teaching through class visits that encourage close study and cross-disciplinary engagement with its permanent collection of 45,000 artworks, including important holdings from many areas of the world.
As part of the Fund for Syracuse you can give to the Syracuse University Art Museum Fund anytime and in any amount. If you give a gift of $2,500 or more you will automatically become a member of The Hill Society, which recognizes alumni, parents, and other friends who support Syracuse University's highest priorities through unrestricted annual gifts at a leadership level.
A contribution to the Museum will help support teaching with the art collection, fund exhibitions and acquisitions of artwork, and provide an array of educational programs and opportunities. Your gift to the Museum helps all Syracuse University students gain access to the arts that enrich their lives and foster creative thinking and dialogue.