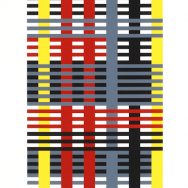 Anni Albers: Work With Materials
August 25 – December 11, 2022
Tracing the remarkable career of the artist, designer, writer, and teacher Anni Albers (1899-1994), Work With Materials features over 100 drawings, prints, textile samples, commercial fabrics, and rugs from the collection of the Josef and Anni Albers Foundation. With a focus primarily on the extraordinarily productive and varied second half of her long career, the exhibition illuminates her ability to move easily between her work as both an artist and as a designer of functional materials.
Read more about the exhibition here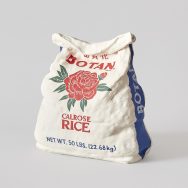 Stephanie H. Shih: My Sweetie Has No Pockmarks 我寶貝沒有麻子
August 25, 2022 – May 14, 2023
The second iteration of  The Art Wall Project features the sculptures made by Stephanie H. Shih. Best known for her ceramic groceries, Shih's work explores ideas of home and nostalgia through the lens of food. Her installation at the museum will feature bags of rice to consider how Asian identity has been flattened through stereotypes and to reclaim this pantry staple as a touchpoint of Asian American identity.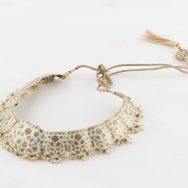 Precious Metal: Gold Across Space and Time
August 25 – December 11, 2022
On August 17, 2017, scientists around the world and at Syracuse University witnessed the collision of two neutron stars that resulted in the production of gold, platinum, and other heavy metals in space. Celebrating the fifth anniversary of this momentous discovery, this exhibition considers how people have exploited gold's unique physical properties to make art and to convey ideas about spirituality, power, and opulence.
This exhibition was organized in partnership with Stefan Ballmer (Physics, College of Arts and Sciences), Duncan Brown (Office of Research, Office of Academic Affairs; Physics, College of Arts and Sciences), Steven Penn (Physics, Hobart and William Smith Colleges), Romita Ray (Art and Music Histories, College of Arts and Sciences), Daniel Sarmiento (Special Collections Research Center), and Irina Savinetskaya (Special Collections Research Center).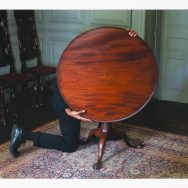 Collections Highlights: 5,500 Years of Art
August 25, 2022 – May 14, 2023
Explore the newly reinstalled permanent collection galleries, which include rarely seen artworks from the museum's collection and two major loans from the Art Bridges Foundation. This thematic installation touches on ideas of identity, place, gender, race, labor, and lineage.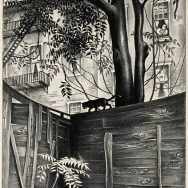 Louise and Bernard Palitz Gallery, NYC
Meow! Animals in the Syracuse University Art Museum
September 9 – December 2, 2022
Meow! invites you to engage critically with visual representations of animals in the Syracuse University Art Museum. Drawing upon animals depicted in a wide range of media, they explored themes of wildlife conservation, animal science, animal mythologies, animal-inspired design, and animal anthropomorphism to see how the non-human animal has inspired the human imagination, fueled scientific research, and shaped knowledge about animal extinction. Curated by Art History students under the supervision of professor Romita Ray in the department of Art and Music Histories (College of Arts and Sciences).