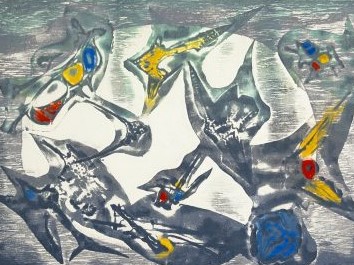 Boris Margo: The Cellocut and Use of Plastics
September 21 through November 5, 2021
This exhibition highlights original prints by American artist Boris Margo. From early on, Margo had an innate impulse to recycle various materials to create artworks. The result of this curiosity was the invention of the cellocut process, a versatile medium that permits considerable freedom in one's use of color and forms in their creations. A difficult medium to handle convincingly, this technique has proven to be challenging for many, resulting in only a few masters of the cellocut, including Margo and his wife, artist Jan Gelb. Curated by Emma Geiler, G'18
Stay connected to the Palitz Gallery and Art Museum exhibitions and programming by joining our mailing list!
About the Palitz Gallery
The second floor of Syracuse University's Lubin House, located at 11 E. 61st Street in New York City, is home to the Louise and Bernard Palitz Gallery, the Museum's visual arts venue in midtown Manhattan.
The Gallery hosts several exhibitions a year featuring the extensive permanent collection of the Syracuse University Art Museum, as well as works from alumni and faculty artists and university partners such as Light Work, Point of Contact Gallery, and Community Folk Art Center. In addition, the Gallery has featured works on loan from collectors or other galleries, and site specific installations by contemporary artists.
Location
Syracuse University Lubin House
11 East 61st Street
New York, New York 10065
Gallery Hours
Monday–Friday: 10 a.m.–6 p.m.
Closed Saturdays, Sundays and University Holidays