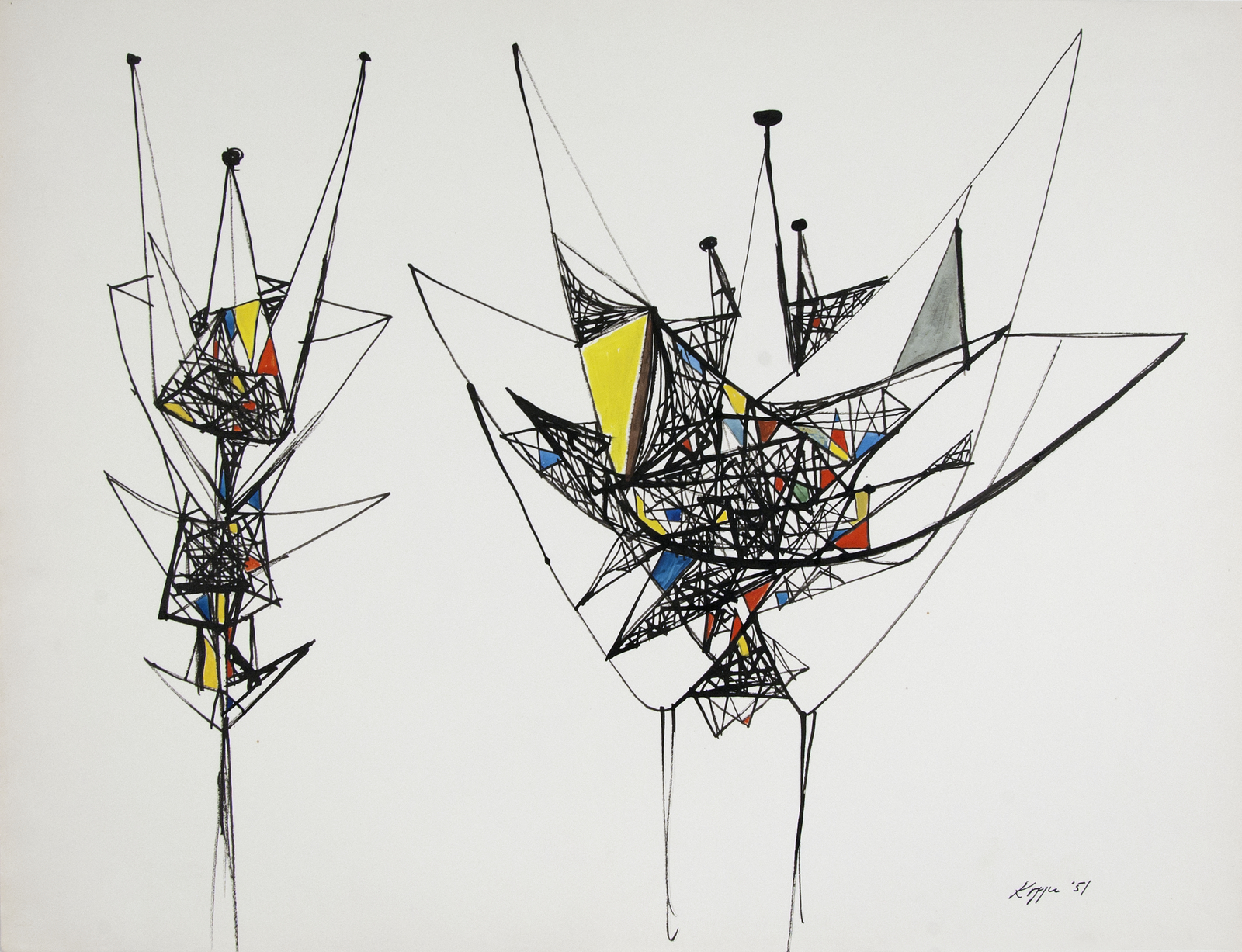 Wings of Glass: Richard Koppe's Post-War Works on Paper
September 18, 2023 – February 2, 2024
This exhibition features works on paper by American artist Richard Koppe, an artist who was preoccupied with flight, materiality, and structure, but whose vision was shaped by post-war anxieties. The work on view  exemplifies the interconnectedness of art, design, and engineering in the mid-twentieth century.
Curated by Theresa Moir Engelbrecht G'17
Related Event:
Wings of Glass Reception & Gallery Talk
October 25, 6:00 pm – 8:00 pm
Join the staff of the Syracuse University Art Museum and guest curator Theresa Moir Engelbrecht G'17 for a reception celebrating the newly opened exhibition Wings of Glass: Richard Koppe's Works on Paper. Listen to Engelbrecht present a gallery talk on the exhibition and mingle with friends and alumni over snacks and cocktails.
Stay connected to the Palitz Gallery and Art Museum exhibitions and programming by joining our mailing list!
About the Palitz Gallery
The second floor of Syracuse University's Lubin House, located at 11 E. 61st Street in New York City, is home to the Louise and Bernard Palitz Gallery, the Museum's visual arts venue in midtown Manhattan.
The Gallery hosts several exhibitions a year featuring the extensive permanent collection of the Syracuse University Art Museum, as well as works from alumni and faculty artists and university partners such as Light Work, Point of Contact Gallery, and Community Folk Art Center. In addition, the Gallery has featured works on loan from collectors or other galleries, and site specific installations by contemporary artists.
Location
Syracuse University Lubin House
11 East 61st Street
New York, New York 10065
Gallery Hours
Monday–Friday: 10 a.m.- 5 p.m.
Closed Saturdays, Sundays,and University Holidays