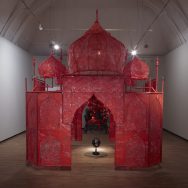 Take Me to the Palace of Love
January 19 – May 14, 2023
An exhibition of critical artworks by acclaimed artist Rina Banerjee that explores the meaning of home in diasporic communities and invites minority groups in Syracuse to tell their own stories of identity, place, and belonging.
Rina Banerjee is the 2023 Jeanette K. Watson Distinguished Visiting Professor in the Humanities. Her two week residency Diaspora, Displacement, and the Science of Art will take place from February 20- March 3, 2023. Banerjee's residency is hosted by Romita Ray (Associate Professor and interim Director of Undergraduate Studies in History of Architecture) with major support from the Syracuse University Humanities Center, the Syracuse University Art Museum; and the department of Art & Music Histories.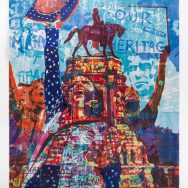 Dreams Deferred: Reflections on Liberty, Equality, and Sovereignty in U.S. Art
January 19 – May 14, 2023
Dreams Deferred examines the idea of freedom in the United States as expressed in art, including its possibilities, its oversights, its uneven implementation, and its attacks on Indigenous sovereignty. This exhibition highlights how structural inequities, oppressive histories, disenfranchisement, and degradation of personhood are variously perpetuated, elided, and disrupted in U.S. art.
Curated by incoming M.A. students in art history and under the direction of Associate Professor Sascha Scott.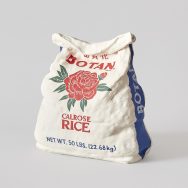 Stephanie H. Shih: My Sweetie Has No Pockmarks 我寶貝沒有麻子
January 19 – May 14, 2023
The second iteration of  The Art Wall Project features the sculptures made by Stephanie H. Shih. Best known for her ceramic groceries, Shih's work explores ideas of home and nostalgia through the lens of food. Her installation at the museum will feature bags of rice to consider how Asian identity has been flattened through stereotypes and to reclaim this pantry staple as a touchpoint of Asian American identity.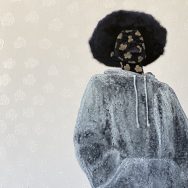 Collections Highlights: 5,500 Years of Art
January 19 – May 14, 2023
Explore the newly reinstalled permanent collection galleries, which include rarely seen artworks from the museum's collection and two major loans from the Art Bridges Foundation. This thematic installation touches on ideas of identity, place, gender, race, labor, and lineage.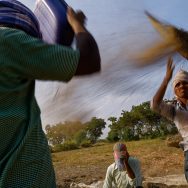 Louise and Bernard Palitz Gallery, New York City
Featuring the photographs made by Ed Kashi '79, this exhibition considers Kashi's practice of what he terms "advocacy journalism." It highlights three projects, ranging in subjects from aging in America, to oil in the Niger delta, and kidney disease, to explore how photojournalism can catalyze interdisciplinary teaching and learning.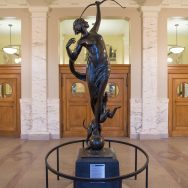 Art on Campus
Ongoing
Explore the public art that is installed on the Syracuse University grounds and buildings through our online collection or via this GoogleMap that will allow you to take a self-guided tour.