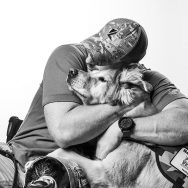 Louise and Bernard Palitz Gallery, New York City
Hard Earned: The Military Photographs of Stacy Pearsall & the Veterans Portrait Project

A graduate of the Newhouse school's military photojournalism program, Stacy Pearsall '04 started her military career at 17 when she enlisted in the Air Force. Her insight into military movement and action allowed her to be deliberate in her photographs – resulting in images that instead of depicting the heat of battle they display the quiet moments of combat, haunting in their false tranquility. The photos remind the viewer that war is not just the front lines – battle includes camaraderie, solitude, and patience. Now medically retired from combat photography, Pearsall continues to photograph veterans for her Veterans Portrait Project.
Curated by Theresa Moir Engelbrecht, G'17.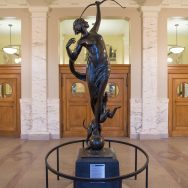 Art on Campus
Ongoing
Explore the public art that is installed on the Syracuse University grounds and buildings through our online collection or via this GoogleMap that will allow you to take a self-guided tour.