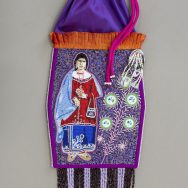 Each One, Inspired: Haudenosaunee Art Across the Homelands
August 19 through November 19, 2021
Composed of over 52 contemporary artworks by Haudenosaunee artists from all six Haudenosaunee Nations across what is now New York, this exhibit takes a closer look at the multiple sources of inspiration in contemporary Haudenosaunee art including: treaties, the natural world, community and family members, ancestors, oral histories, and connection to land. Collectively, the artworks in this exhibit break convention by challenging the expected, disrupting stereotypes and non-Haudenosaunee historical narratives.
Curated by Gwendolyn Saul, PhD, Curator of Ethnography and Ethnology, these works are on loan from the Contemporary Native American Art Collection, New York State Museum, Albany.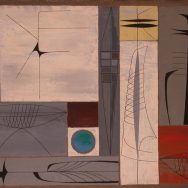 Richard Koppe: American Painting and the New Bauhaus
August 19 through November 19, 2021
An instrumental member of the New Bauhaus School in Chicago, Richard Koppe's artwork demonstrates complex compositions of structured lines, geometry, and color. This exhibition draws from the museum's large collection of Koppe artwork to explore his unique approach to line, plane, color and form in the evolution of his paintings. Curated by Grace Mccormick, '22, Curatorial Intern, with Vanja Malloy, Director & Chief Curator.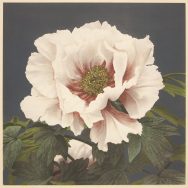 Collection Highlights: 5,500 Years of Art
August 19 through November 19, 2021
Explore the newly reinstalled permanent collection galleries, which include many never-before-seen works of art and new acquisitions. In place of a traditional chronological organization, this new installation places artworks from across the globe and time in conversation with one another.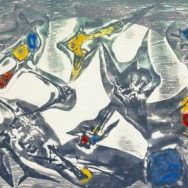 Louise and Bernard Palitz Gallery, New York City
Boris Margo: The Cellocut and Use of Plastics 
September 21 through November 5, 2021
This exhibition highlights original prints by American artist Boris Margo. From early on, Margo had an innate impulse to recycle various materials to create artworks. The result of this curiosity was the invention of the cellocut process, a versatile medium that permits considerable freedom in one's use of color and forms in their creations. A difficult medium to handle convincingly, this technique has proven to be challenging for many, resulting in only a few masters of the cellocut, including Margo and his wife, artist Jan Gelb. Curated by Emma Geiler, G'18