Continuity, Innovation, and Resistance: The Art of Peter B. Jones
August 24 - December 15, 2023
The Emily & Joe Lowe Galleries
The exhibition will feature the ceramic works by Onondaga artist Peter B. Jones that comment on and actively resist the impact of colonialism on Haudenosaunee communities, past and present. His art presents Haudenosaunee culture as a continuum that has resisted and persisted despite serious attacks on Haudenosaunee lands, sovereignty, and cultural identity.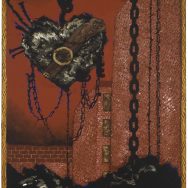 Scriptorium con Safos: Syracuse
August 24, 2023 - May 12, 2024
Luise and Morton Kaish Gallery and Permanent Collection Galleries
Artist and art historian Josh T Franco stages a highly personal intervention in the Museum's permanent collection galleries by developing the exhibition checklist and staging performances to activate the space. He takes on the fundamental method of compare and contrast, as championed by the nineteenth-century Swiss art historian Heinrich Wölfflin, in order to consider his place within the discipline. In doing so, he invites museum visitors, especially Syracuse University students, to consider their relationships to their fields of study.
Nona Faustine, My Country
August 24, 2023 - May 12, 2024
Art Wall
The Art Wall Project at the Syracuse University Art Museum continues for its third presentation and will feature photographs and silk-screen prints made by Nona Faustine, a Brooklyn-based photographer. For this iteration, Faustine will consider the legacy of monuments in the United States and explore how, as she has described, "history is turned around. What is left out, what is included, what are the lies. And who gets celebrated."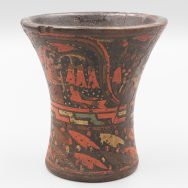 Making a Global Pre-Modern World
August 24- December 15, 2023
James F. White Gallery
Drawing from the museum's collections, this exhibition focuses on select moments in the global histories from the ninth through the nineteenth centuries. The included artworks, many of which are on view in the gallery for the first time, complicate ideas of empire, highlight the importance of trade, and foreground how cross-cultural influences inform artistic practices.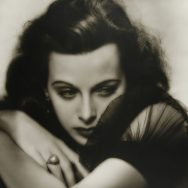 Beyond the Classroom: Teaching and Learning at the Museum
August 24- December 15, 2023
James F. White Gallery
In its second iteration, this exhibition will showcase the artworks that Syracuse University Art Museum's 2023-2024 Faculty Fellows will teach from during the academic year. Launched in Summer 2022, the museum's Faculty Fellows program supports innovative curriculum development and the fuller integration of the museum's collection into the University's academic life.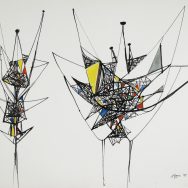 Louise and Bernard Palitz Gallery, New York City
Wings of Glass: Richard Koppe's Post-War Works on Paper
September 18 – December 8, 2023
This exhibition features works on paper by American artist Richard Koppe, an artist who was preoccupied with flight, materiality, and structure, but whose vision was shaped by post-war anxieties. The work on view  exemplifies the interconnectedness of art, design, and engineering in the mid-twentieth century. Curated by Theresa Moir Engelbrecht G'17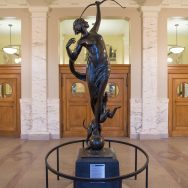 Art on Campus
Ongoing
Explore the public art that is installed on the Syracuse University grounds and buildings through our online collection or via this GoogleMap that will allow you to take a self-guided tour.