The Museum's comprehensive permanent art collection, encompassing nearly 45,000 works of art, allows us the unique ability to share our deep collections and our curatorial expertise with audiences around the world. Central to our mission to make our collections and exhibitions available to all audiences, the museum's Traveling Exhibition Program was established in 1985 to share our exemplary collection and new research with a wide audience. Since the program's establishment, we have travelled over a hundred unique exhibitions  to more than three hundred museums and university galleries throughout the country.
CONTACT:
Emily Dittman
Associate Director
travex@syr.edu
December Featured Exhibition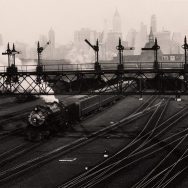 In Actuality: Social Realism and Its Legacy from the Robert B. Menschel Collection
Following the advent of photography in the mid-nineteenth century, artists and critics alike struggled to make sense of this new technology and its place in the world of modern art.  Some photographers chose to experiment with chemical processes and lighting techniques in order to achieve more abstract and painterly images, resembling traditional forms of art. Others embraced the camera's documentary function and championed stark reality as a subject.
This exhibition explores photographic works from the artistic movement known as social realism, popularized in the United States during the 1920s and 1930s, through which artists captured frank and unembellished scenes of working-class life and industrialized spaces.
This exhibition has been organized in honor of Mr. Robert B. Menschel, '51, H'91 and his philanthropic generosity resulting in the contribution of over 400 works of art since 1978. The images included in this display are drawn from his most recent gift in 2018, a selection of over 180 photographs from the nineteenth and twentieth centuries, representing the works of more than 75 artists.