The Museum's comprehensive permanent art collection, encompassing nearly 45,000 works of art, allows us the unique ability to share our deep collections and our curatorial expertise with audiences around the world. Central to our mission to make our collections and exhibitions available to all audiences, the museum's Traveling Exhibition Program was established in 1985 to share our exemplary collection and new research with a wide audience. Since the program's establishment, we have travelled over a hundred unique exhibitions  to more than three hundred museums and university galleries throughout the country.
CONTACT:
Emily Dittman
Associate Director
travex@syr.edu
October Featured Exhibition
Kamikaze Curiosity: Louisa Chase Prints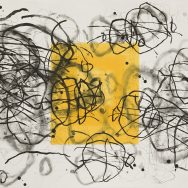 Emcompassing almost 40 years of the artist's prints, Kamikaze Curiosity  is the first retrospective of Chase's published works in over 20 years and is the first since the artist's death in 2016.
The prints of Louisa Chase (Syracuse University '73) offer an insightful map to an extraordinary career; a satellite view of an enduring artistic expedition. She was one of few female artists to gain notoriety during the resurgence of painting in the 1980s, often associated with New Image painting and Neo Expressionist [NeoX] movements alongside Elisabeth Murray and Susan Rothenberg. Her work in print represents a lifelong exploration of innovation and experimentation, and the selected works illustrate the evolution of Chase's distinct visual vocabulary, giving insight into this lifelong exploration, as she described, as a 'kamikaze curiosity.'
This exhibition is evidence of that methodology: a survey encapsulating almost 40 years of creative pursuit, pushing the envelope of aged processes. The sequential progression of her visual vocabulary is summarized, and articulated, within the impressions on view: her figurative NeoX compositions, conveyed a with comic (not to be confused as 'funny'), simplified style; as in 1983's Chasm and Thicket, giving way to the aggressive, abstracted gestural sensibility seen in Spook (1986) and the array of the untitled compositions of the late 1980s. And then, as if mining through her landscape of expressive mark-making, excavated compositions the representational imagery emerge once again, as seen in the emblematic Trying to Remember Your Face (1996) and Five Fears  (2000).
Curated by Andrew Saluti, assistant professor, Museum Studies, Syracuse University. This collection of works in this exhibition are thanks to Ben Chase and the Estate of Louisa Chase for the generous donation of Louisa's  work to the Syracuse University Art Museum in 2019.