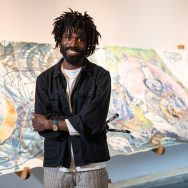 The inaugural 2021 – 2022 Art Wall Project features the work of contemporary artist Ivan Forde whose installation explores the theme of homeland(s), migration(s) and reinvented identity(ies). Forde was inspired by the 1954 collection of poems, "Eternity to Season," by British-Guyanese author Sir Wilson Harris, which radically confronts the legacy of colonialism by situating ancient characters from The Odyssey in present day villages on the Guyana coast. Forde builds on this concept by creating a large scroll that depicts an epic journey through sea and sky using cyanotype, painting, drawing, and collage, which he employs to insert images of himself as a dynamic mosaic of fantastic creatures, gods, and heroes in the work.
"My non-linear analysis of classic poems about the origins of nature, human life, and cultural traditions, opens the possibility of reformed archetypes, alternative endings, and new beginnings. By visually crafting my own epics, often depicted in shades of blueprint cyanotype, I intertwine the personal and the global to offer a transformative view of prevailing motifs that unite us across cultures, reflecting on the coexistence of opposing and complimentary human experiences in this new age."
The Syracuse University Art Museum's new Art Wall initiative is dedicated to site-specific works by emerging and leading contemporary artists, commissioned annually.
#SUArtMuseum #IvanForde @workdaily